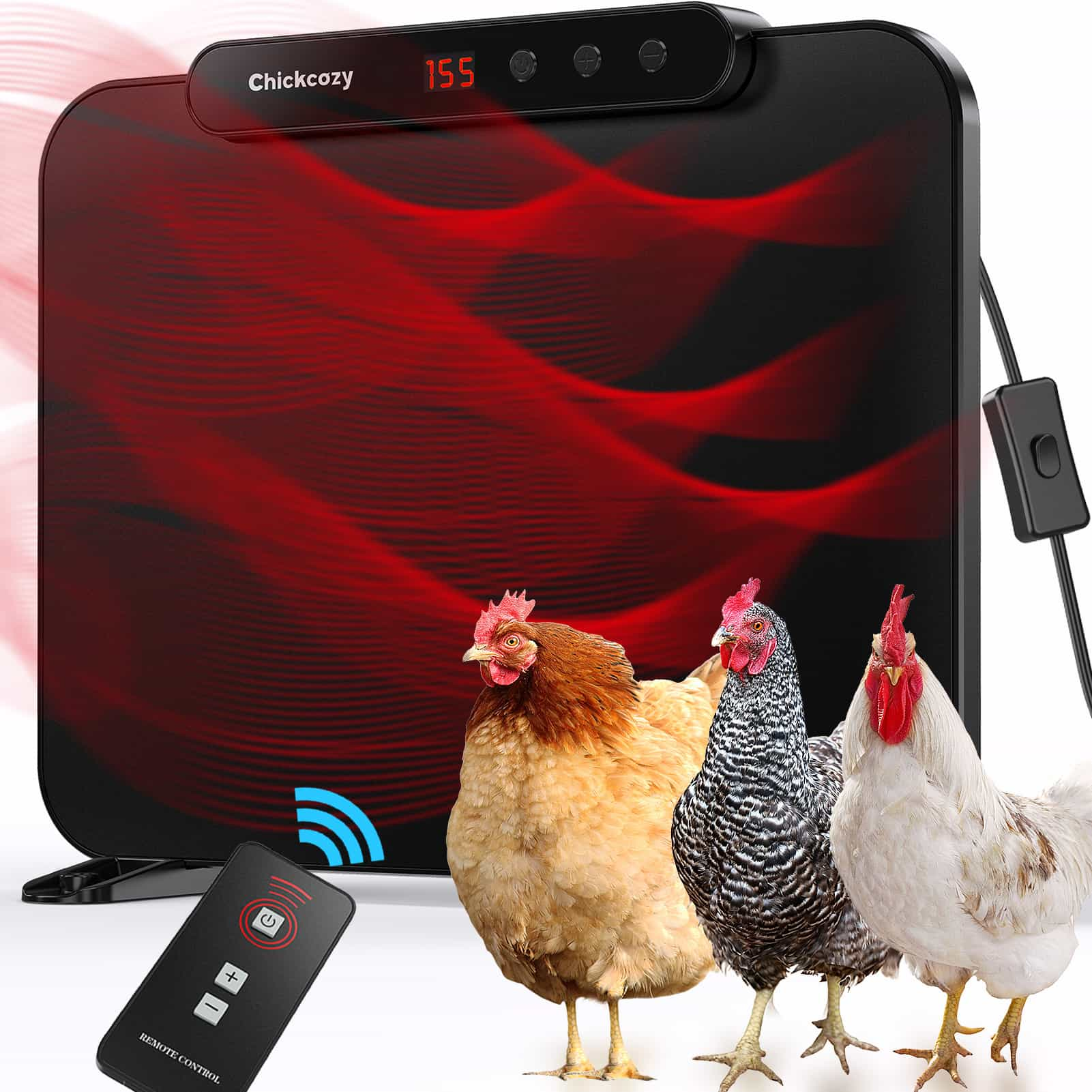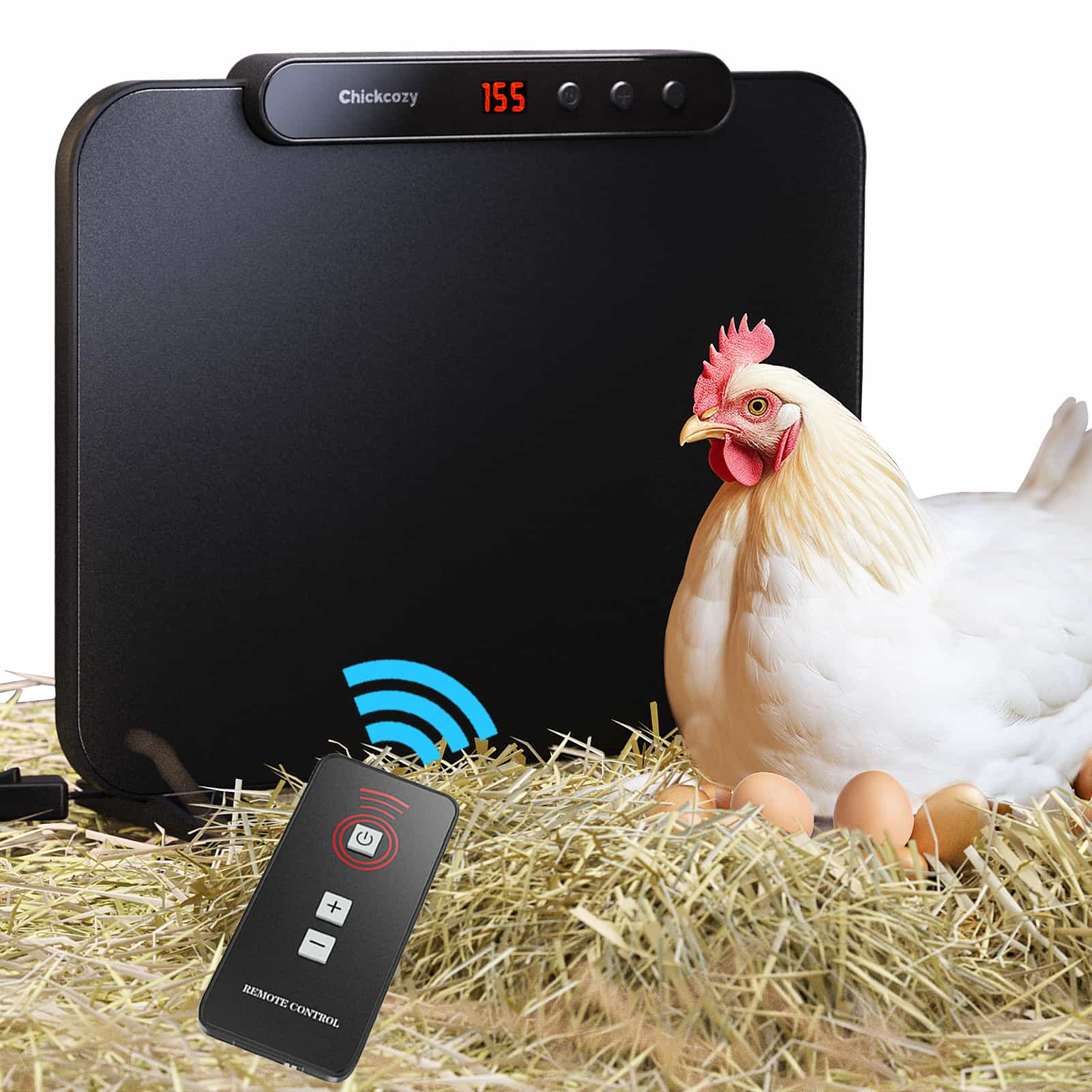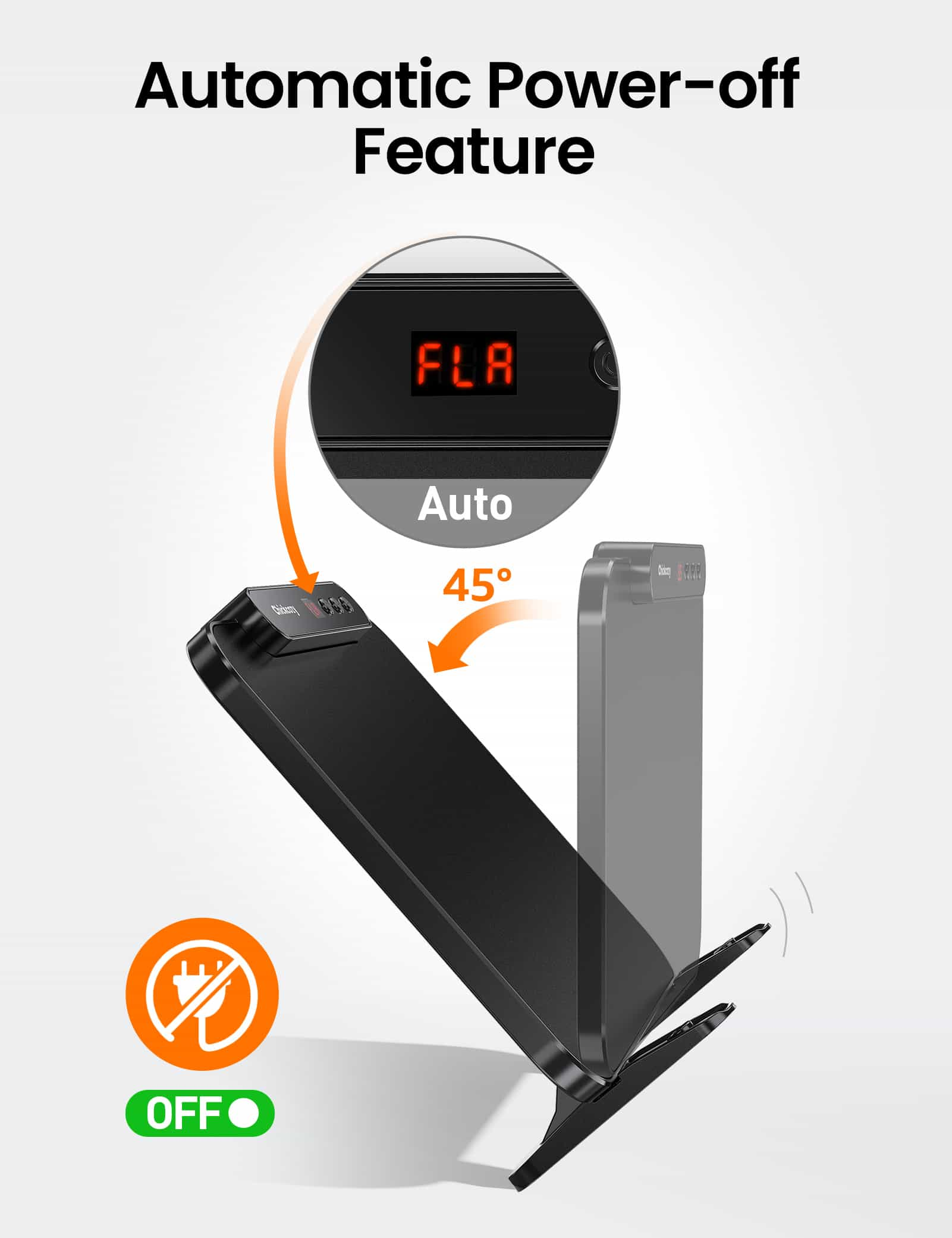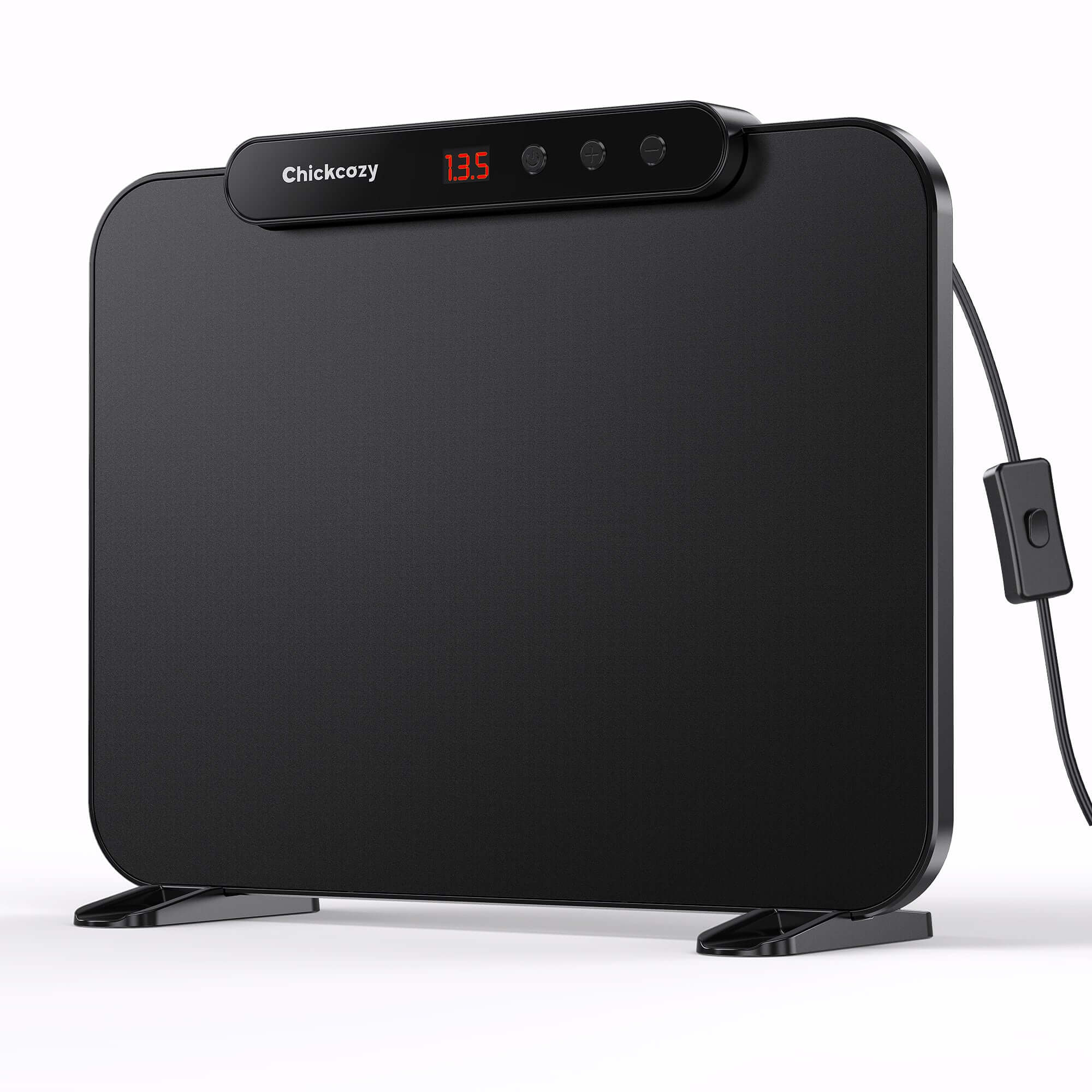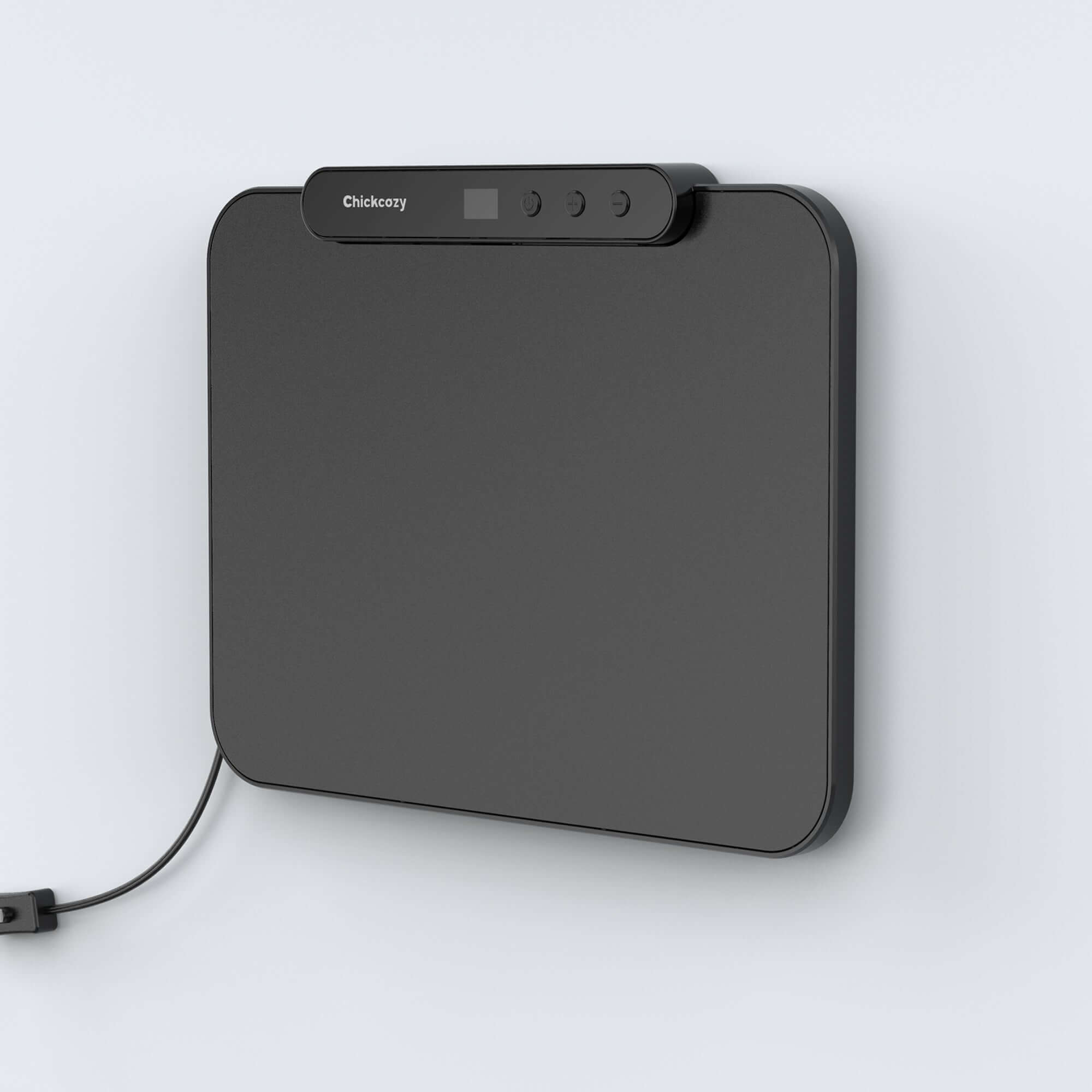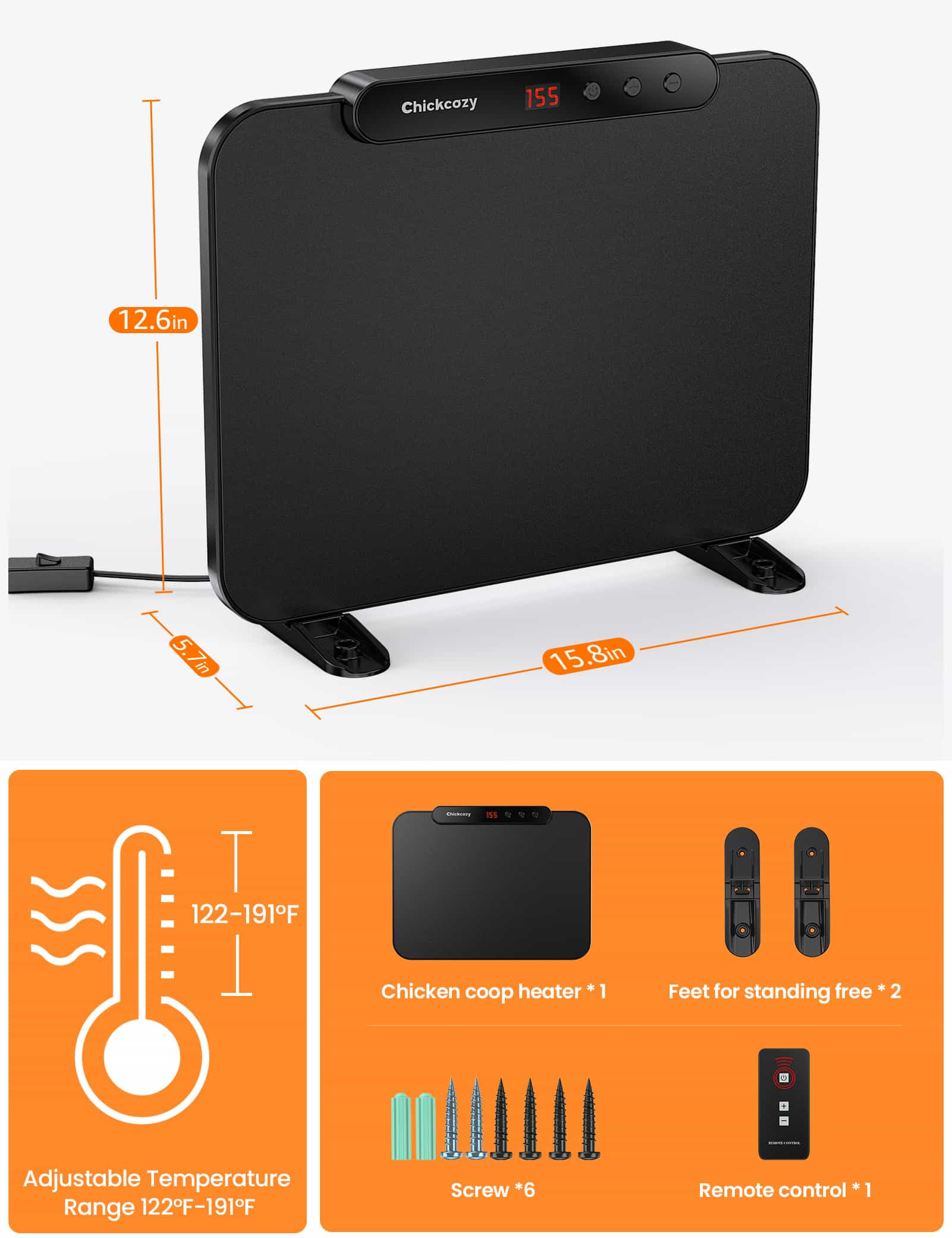 Chicken coop heater
For USA and Canada Only.
Automatic power-off feature Anti-tilting Design: The chicken coop heater has a built-in anti-tipping design. This feature is part of the factory default setting. The product will stop working, thus preventing a fire if the panel tips over or tilts to a 180° angle. If you don't need this function, You can turn off this feature through the settings.
Two Ways to Use:
1. Standing: To use the free-standing feature, push the included removable feet into the slot at the bottom of the heater.
2. Wall Mounted: There are mounting holes on the back of the heater. The heater can be hung on the wall with suitable hooks, nails, or the included screws.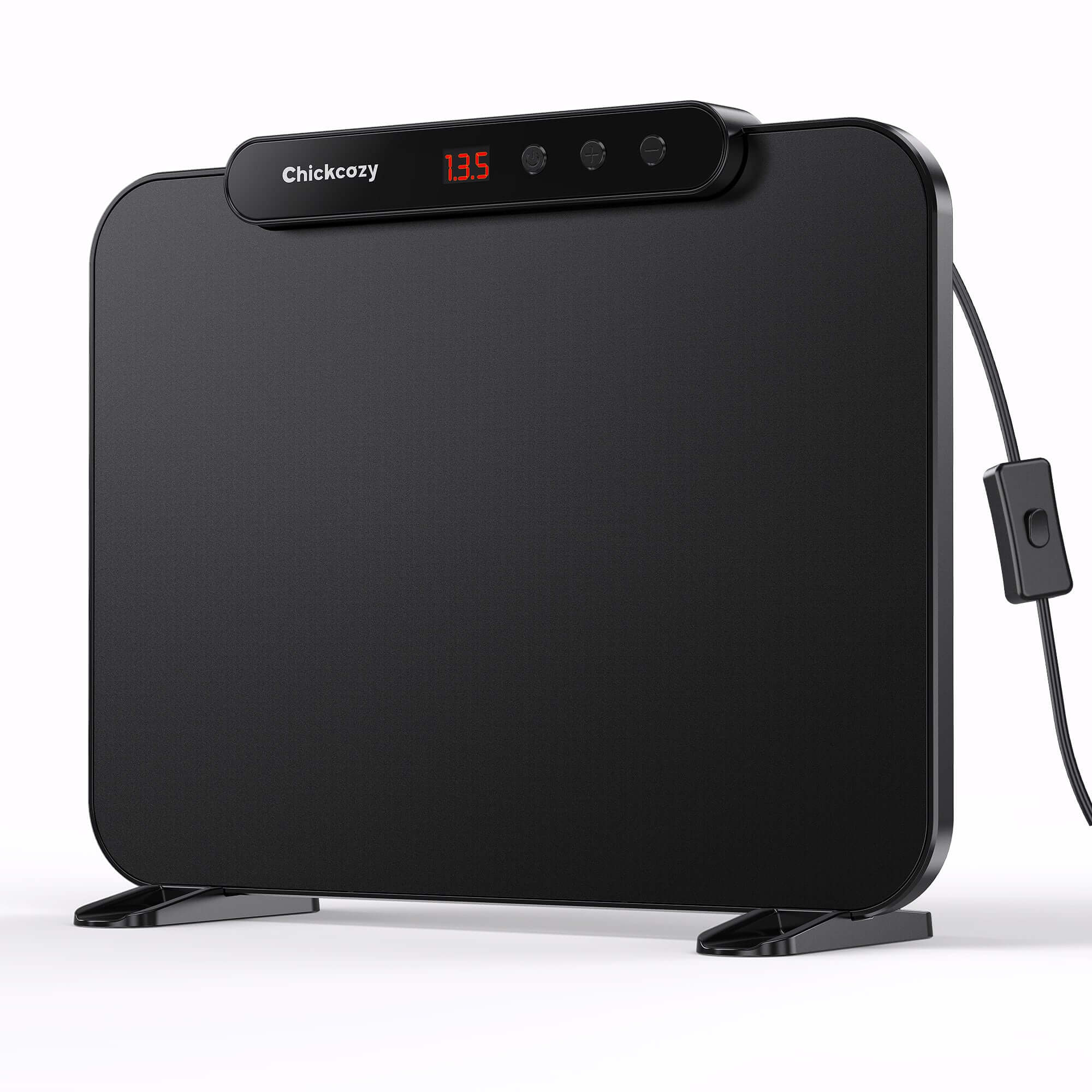 This product has no reviews yet.
Top 5 Benefits of Using A Chicken Coop Heater
Why Chicken Coop Heater?
Chicken coop heaters offer the benefits of increased safety, energy efficiency, temperature control, chicken comfort, and easy installation compared to traditional heat lamps.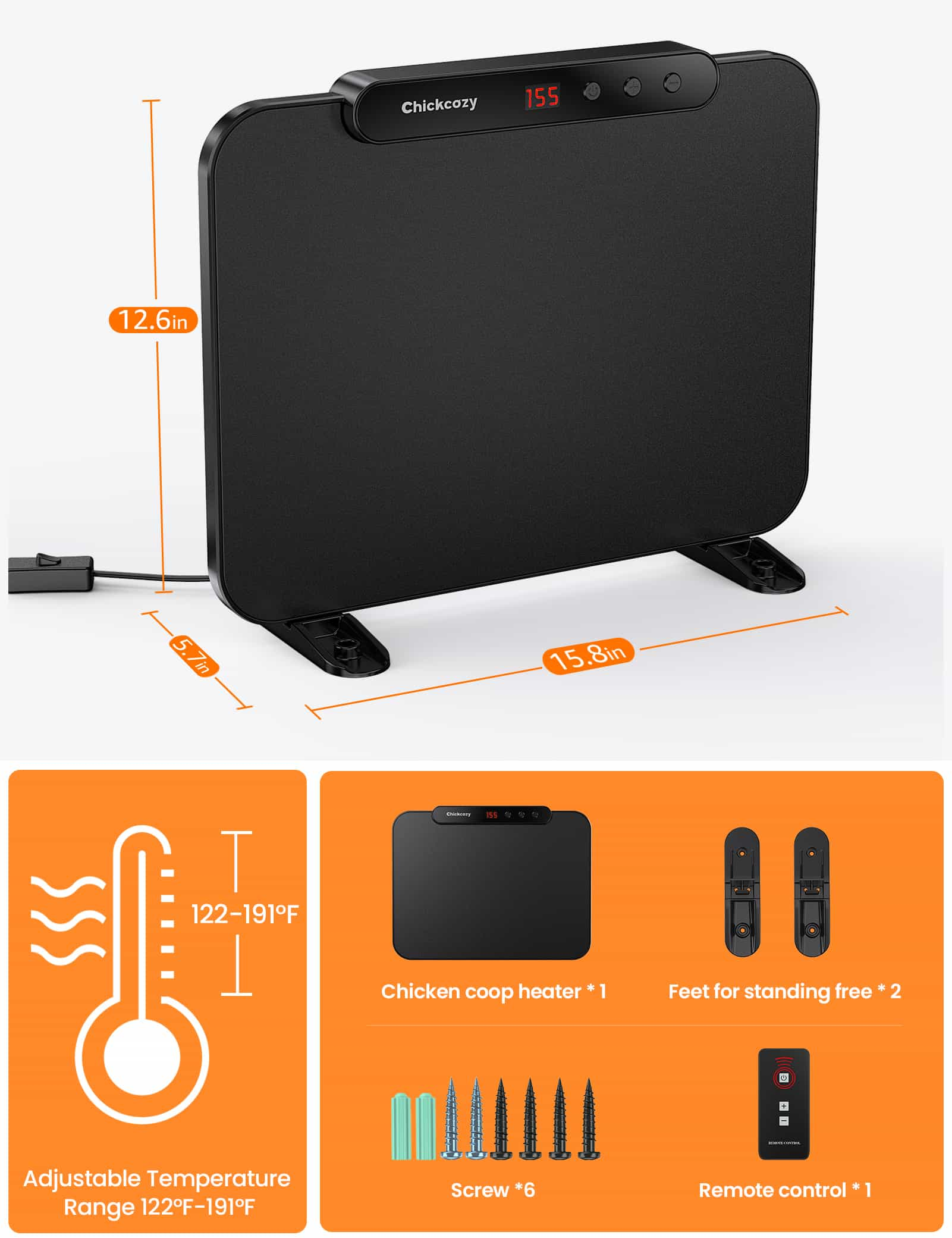 Newest Version 2.0
Chicken Coop Heater - A Better Heating Source for Chicken Coop
Unleash the Power of Innovation with the Latest Version - Enhanced Heat, Performance, and Control!
87%
Energy saved (Compare to a 1500W heat lamp)
Save on energy costs while efficiently maintaining a comfortable environment for your chickens.
32 Ft
Remote Control Distance
Remote control eliminates the need to enter cramped coops to adjust the machine.
Learn more about Chicken Coop Heater
Discover the significance of having this chicken coop heater by clicking on the marked areas below.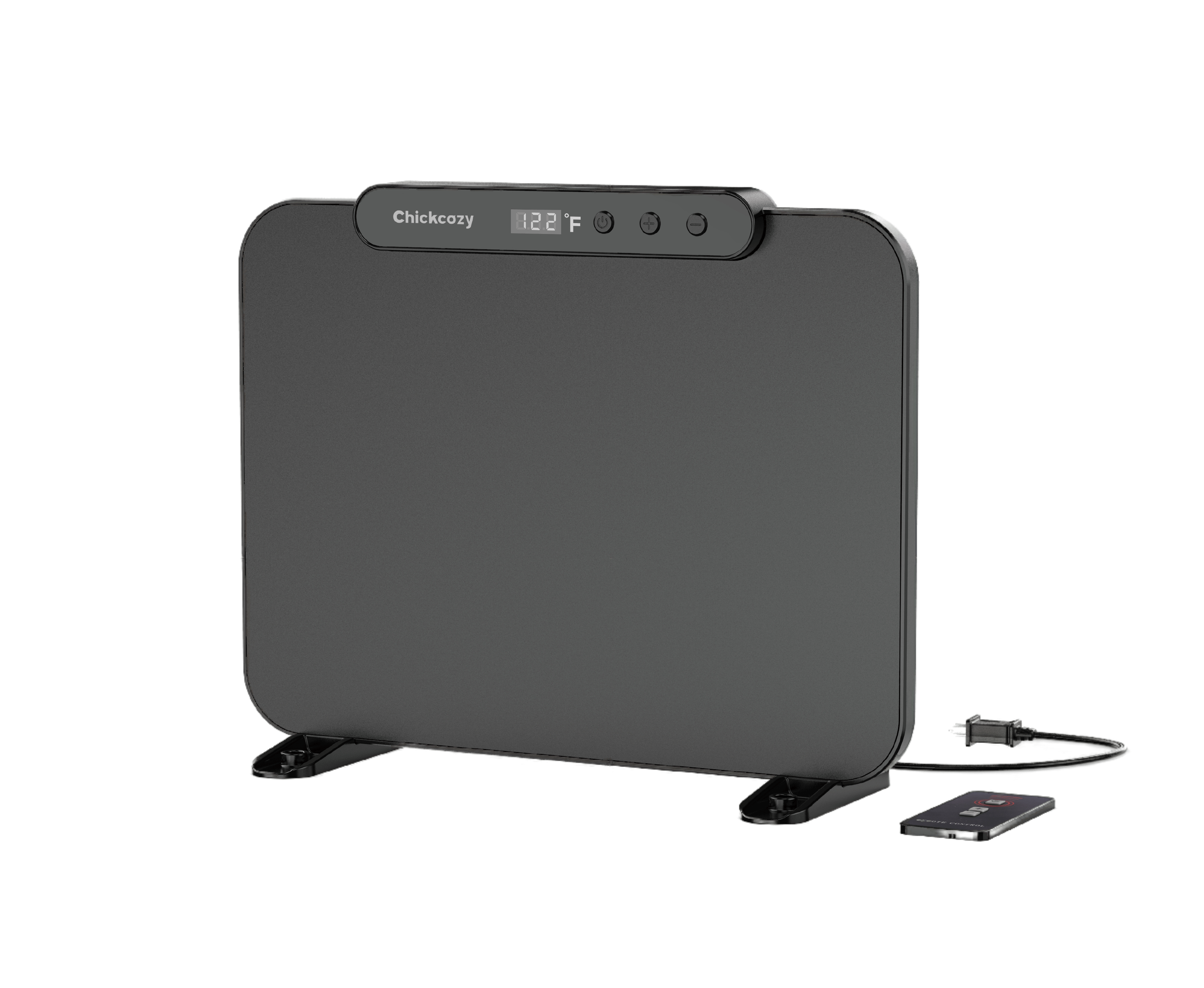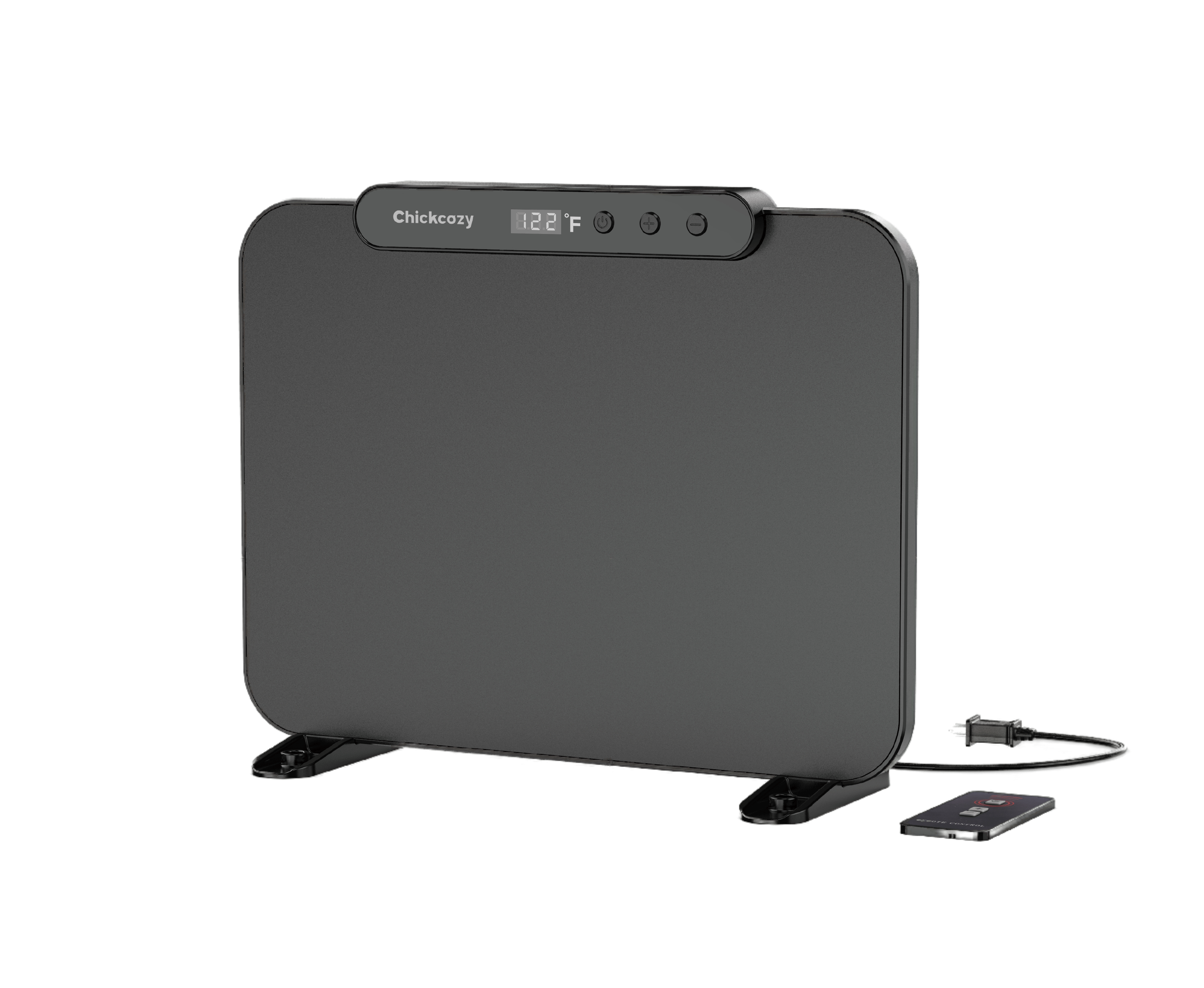 Feet Stand
A pair of stands is included with the package so that the coop heating plate can be used on the ground.
Read the Temperature
Equipped with a screen that showcases all your settings, you can effortlessly fine-tune the temperature according to your readings and preferences. Prepare to be amazed as your chickens bask in the perfect climate, ensuring their well-being and happiness. Embrace comfort like never before!
Radiant heater
The Radiant heater with a temperature adjustment range of 122~191℉/(50~88℃); the Effective radiant heat range is within 40 cm.
Remote Control
You'll love the convenience of our remote control, which allows you to effortlessly switch and adjust the temperature outside the chicken coop.
Keep Your Flocks Safe, Keep Your Property Safe
Unlike heat lamps, which can be a ​fire hazard if they come into contact with flammable materials or if a chicken flies up into it, coop heaters have built-in safety features that reduce the risk of fire. They are designed to turn off automatically if tilted past a certain degree, ensuring the safety of your chickens and your property.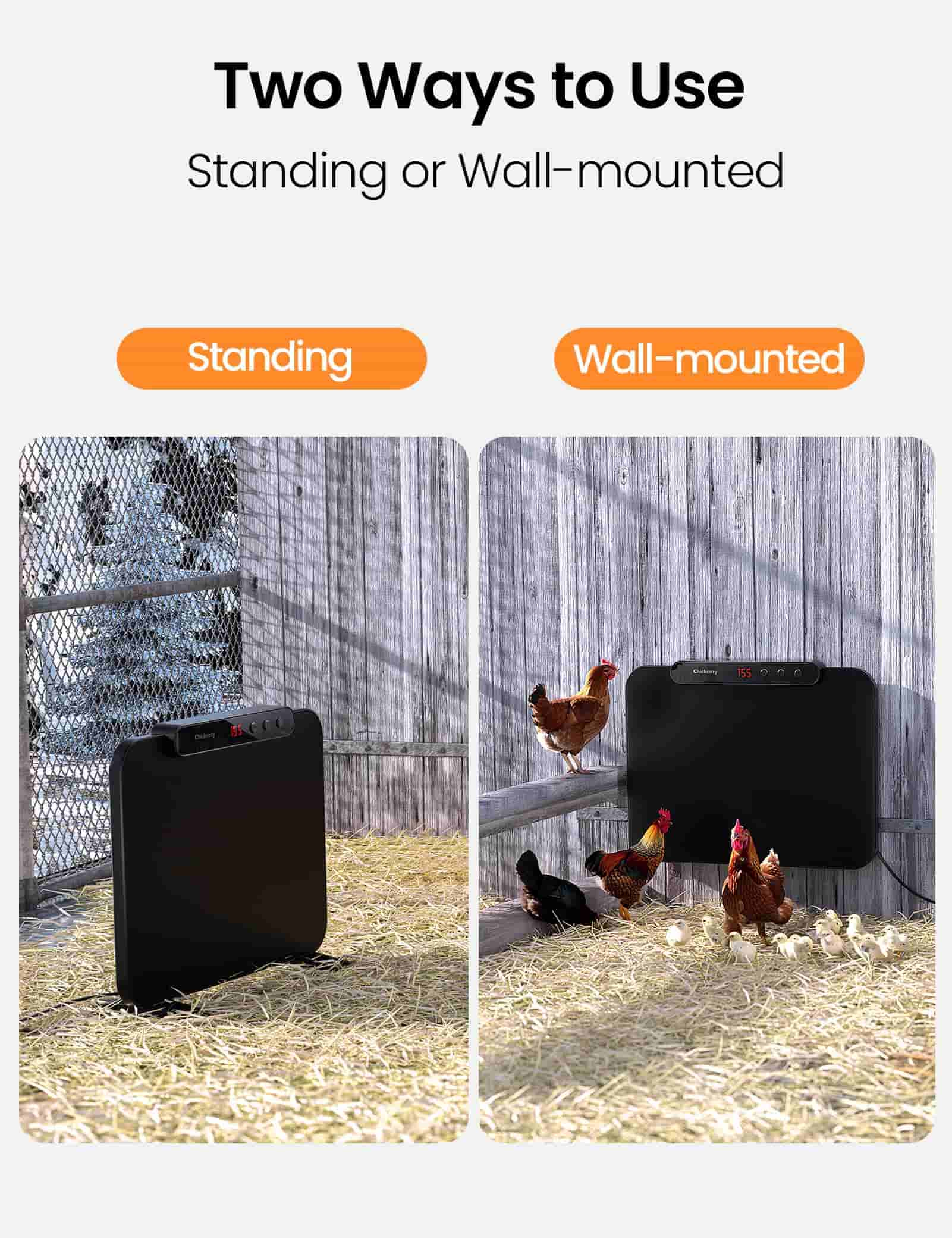 Easy Installation and Portability
Chickcozy Chicken coop heater can be easily mounted on the wall or stand on their own using the provided feet. They are portable and can be moved around within the coop as needed, ensuring that the heat is evenly distributed and allowing for flexible placement options.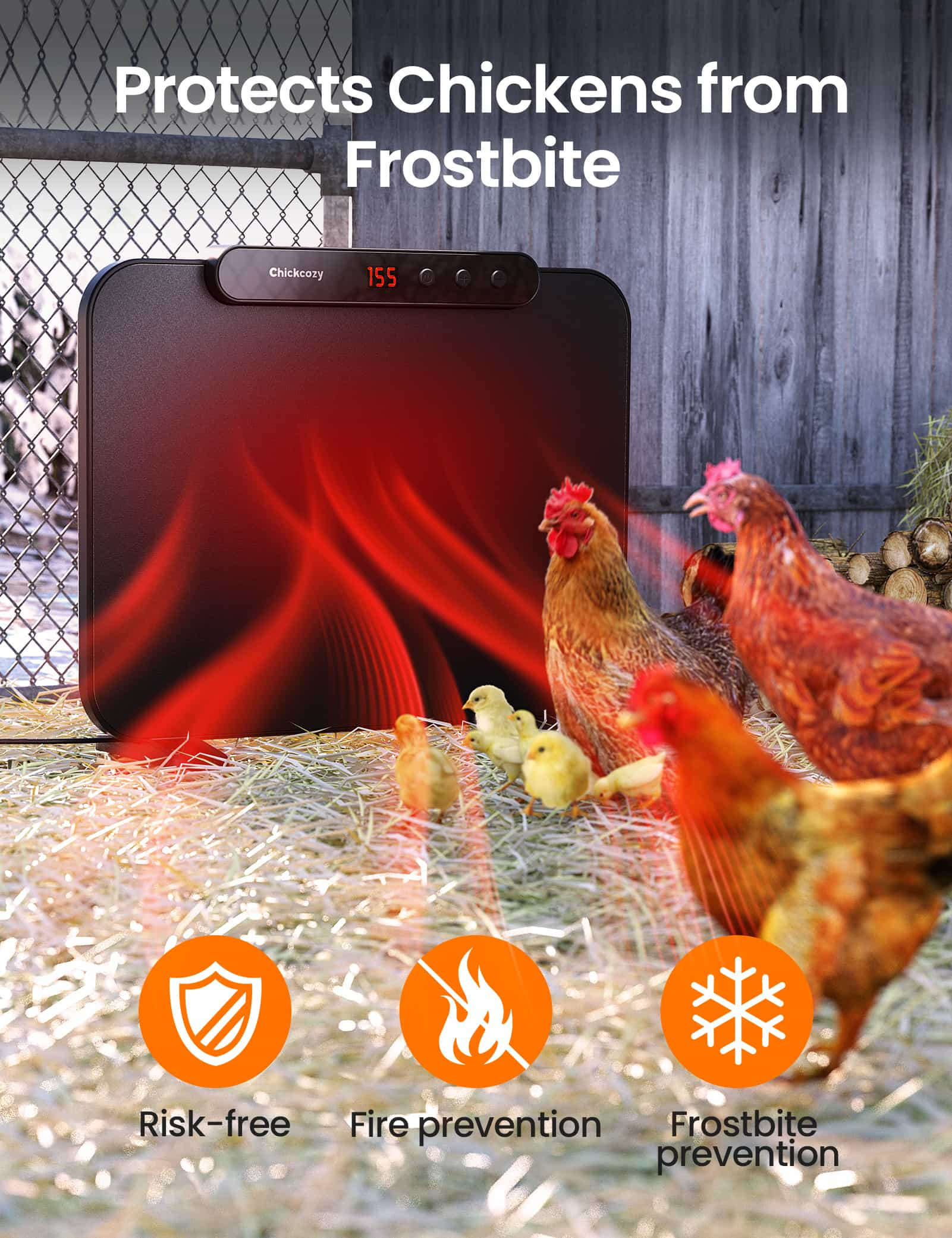 Comfort and Well-being of Chickens
Coop heaters provide radiant heat, which mimics the natural warmth of the sun. This type of heat is beneficial for chickens as it warms their bodies directly, making them feel comfortable. It also helps prevent frostbite, as the surface temperature of coop heaters is kept at a comfortable and safe level for chickens to touch.
Compare
Product specification
Why version 2.0 is more worth buying? Read the differences below.
Version
Chickcozy Chicken Coop Heater version 1.0
Chickcozy Chicken Coop Heater version 2.0
Adjustable temperature range
Remote control effective distance
Anti-dump function display
Why do you need a chicken coop heating plate?
The coop heater protects chickens from frostbite but does not overheat them. The surface temperature is kept at a comfortable temperature that is safe to touch.
What's the temperature range of this coop heater?
The Chickcozy chicken coop heater has a temperature adjustment range of 122~191℉/(50~88℃) an effective radiant heat range within 40 cm.
Why design the highest temperature at 191 Fahrenheit?
Considering the possibility of some high latitudes and possible extreme weather, we set the maximum temperature that can be set at 191 degrees, which can ensure that as much heat as possible can be provided without igniting bedding materials in the chicken coop.
What's in the package?
Chicken coop heater * 1, Remote control * 1, Feet for standing free * 2, M5* 20mm Screw *2, Manual *1.